Spring 2022 CIPhER seminars will only be offered via Zoom.
Co-sponsored by the Center for Innovative Pharmacy Education & Research (CIPhER) and the Office of Organization Diversity & Inclusion.
12:00-1:00 p.m., Wednesday, April 20, 2022, via Zoom
Old habits die hard. As a microcosm of society, pharmacy education has constructs, habits, and routines that impact what we do, how we do it, and our ability to change with the times. This program will explore these constructs, habits, and routines and discuss how we can create new habits and routines that are developed through the lens of diversity, equity, and inclusion. Participants will review and learn about preliminary data from assessment tools used by the University of Georgia as we roll out newly integrated DEI learning activities and be able to engage in some of the activities developed for its curriculum
Learning Objectives: At the end of this program, participants will be able to:
Describe how social constructs, habits, and routines impact organizational and curricular effectiveness
Identify ways to integrate DEI and Social Determinants of Health (SODH) into a PharmD curriculum
Define how one school has developed assessment tools to evaluate student confidence in initiating conversation and discussion of DEI and SODH topics
Target Audience: This program is designed for all faculty, staff, preceptors, trainees, and students..
Registration: For non-UNC affiliates, registration is $15.00. (UNC Affiliates are faculty, staff, trainees, students, preceptors and residents who currently work for the University of North Carolina at Chapel Hill or support its students.)
REGISTRATION DEADLINE: Friday, April 15, at 5 p.m.
---

The University Of North Carolina Eshelman School Of Pharmacy is accredited by the Accreditation Council for Pharmacy Education as a provider of continuing pharmacy education. ACPE program 0046-9999-22-096-L04-P provides 1.0 contact hour of continuing pharmacy education credit. To receive CE credit, participants must sign-in upon arrival (in class or online), attend the entire program and complete the evaluation within 60 days of the program date (included in LECE which will open after the workshop). Statements of credit can be viewed and printed in CPE Monitor in approximately 2 to 3 weeks. **No partial credit will be available**
Presenter Information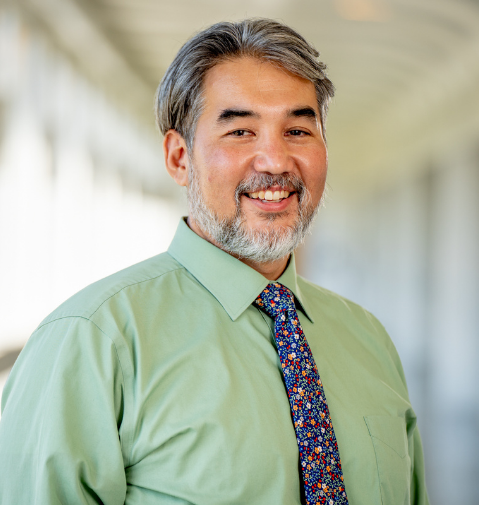 Michael Fulford, PhD, Assistant Dean for Institutional Effectiveness and Strategic Initiatives, Interim Director of Faculty Affairs, & Senior Academic Professional, University of Georgia, College of Pharmacy
Michael Fulford
, PhD serves as Assistant Dean for Institutional Effectiveness and Strategic Initiatives at the University of Georgia College of Pharmacy. In this role he is responsible for assuring the ongoing effectiveness of the College in all its missions through data stewardship and evaluation, accreditation, strategic planning, and assessment. In addition, he supports and advances teaching and assessment of student learning. Dr. Fulford has been the Director of (PharmD) Assessment for the College since 2011. Prior to joining UGA, he engaged in assessment-related work for 13 years at Oglethorpe University, Georgia Tech, and Lanier Technical College. He was appointed Interim Lead for CoP Faculty Affairs in 2019, while continuing to maintain his role as Director of Assessment. Along with his administrative work, Dr. Fulford has earned a national reputation in Assessment, Pharmacy Education, and Higher Education through his publications, leadership, and professional activities. He has 42 publications; 30 national platform presentations, including 16 invited presentations; and he has been requested to serve as a consultant on assessment, accreditation, and education matters for 16 different institutions in the U.S. and Egypt. Considered a leader of assessment in academic pharmacy, he has been instrumental in advancing several ongoing projects involving national pharmacy organizations.
Event FAQ
A Zoom link will be provided prior to the program via a confirmation email. If you attend remotely via Zoom with a group, please email susan.charamut@unc.edu with the names of the attendees. To receive CE credit, you must be registered for the program and we must be able to tie your registration to your Zoom login. If your Zoom login is different from your name, please email susan.charamut@unc.edu with details.
Payment Information: Non-UNC Affiliates are required to pay a fee of $15 to attend and earn CE credit. When registering, you will be directed to a separate system for security purposes. Please select "OK" to be transered to the payment site and complete your registration. Be sure the zip code associated with your credit card's billing address matches the zip code in your account. If your registration is successful, you will be returned to this page and will see a note stating "You are registered for this program." If you receive a blank screen, your registration and payment were not successful.
CE: Participants requesting CE have 60 days from the program date to claim CE crediit and verify credit has been uploaded to your CPE monitor account.
By registering you are automatically agreeing to:
1. Grant the University of North Carolina at Chapel Hill (the "University") the irrevocable right and permission to use photographs and/or video recordings of me on University and other websites and in publications, promotional fliers, educational materials, derivative works, or for any other similar purpose without compensation to me.
2. Agreeing that such photographs and/or video recordings of me may be placed on the Internet. Understanding and agreeing that I may be identified by name and/or title in printed, internet or broadcast information that might accompany the photographs and/or video recordings of me. Waiving the right to approve the final product. Agreeing that all such portraits, pictures, photographs, video and audio recordings, and any reproductions thereof, and all plates, negatives, recording tape and digital files are and shall remain the property of the University.
3. Releasing, acquitting and forever discharging the State of North Carolina, the University, its current and former trustees, agents, officers and employees of the above-named entities from any and all claims, demands, rights, promises, damages and liabilities arising out of or in connection with the use or distribution of said photographs and/or video recordings, including but not limited to any claims for invasion of privacy, appropriation of likeness or defamation.
If you wish to decline this permission please contact – cipher@unc.edu.
Date: Apr 20, 2022 12:00 PM - 01:00 PM
Registration closes on Apr 20, 2022 05:00 PM
Activity Type
Please choose a Fee Type from the Drop Down Menu Below:
I am a
Registration closes on Apr 20, 2022 at 05:00 PM
Activity Number
0046-9999-22-096-L04-P
Date: 04/20/22
Time: 12:00 PM - 01:00 PM