The Teaching & Learning Certificate (TLC) Program sets the standard for online learning and is designed to help educators and pharmacists improve outcomes through evidence-based teaching and learning techniques.Taught by renowned educators, the course delivers a world-class curriculum focused on evidence-based teaching and learning strategies. In an effort to assist Program Directors in planning their residency programs, CIPhER offers the advance purchase of registrations in the online Teaching & Learning Certificate program. Discounted advance registrations can be customized as detailed below to fit the needs of the program.
Core Skills
Foundation of Learning
Assessing Learning Needs
Assessment and Evaluation
Designing the Learning Experience - Classroom
Designing the Learning Experience - Experiential
Facilitation and Feedback
Your Choice
Select 4 of 15 special topic modules to customize your experience in areas of technology education, evidence-based teaching strategies, academic integrity or advanced preceptor topics.
The course completes with a practicum where you apply the learned knowledge and reflect on the program experience.
Download the syllabus
.
Our Teaching Learning Certificate Program can help your residents achieve the professional advancement goals.
Apply knowledge, skills, and insights to stand out in your residency program
Personalize the course program to expand career growth opportunities
Put evidence-based teaching and learning strategies into practice immediately
Apply experiential learning practices to improve your team's performance
Personalize professional learning goals with an on-demand curriculum that fits your time-challenged schedule
Our world renowned educators
Adam Persky, PhD, Clinical Professor and CIPhER Faculty Fellow, TLC Program Director
Jacqui McLaughlin, PhD, Associate Professor and Director of CIPhER
About the TLC Program - The program is asynchronous and can commence at a time best suited for the learner. It is expected learners will complete the program within 18-months from their start date. Successful completion of the program will require approximately a 15-hour commitment. Assignments and program modules are managed through the learning management platform, Sakai. Program directors can purchase registrations in advance of residency assignments at a discounted rate. Bundles of 3, 5, 8, and 10 are available.
After Advance Purchase - After purchasing a bundle you will recevie a coupon code (for the number of uses purchased) which will allow your residents to register without additional cost. Once residents are identifyed and on-boarded, they will need to register for the TLC program using the coupon code provided. Within two weeks of their registration, participants will be added to Sakai and will receive an email from Sakai inviting them to join the program - participants will need to click the provided link to access the program. After successful completion of the program, including the program evaluation, a certificate of completion (electronic certificate) will be sent to the email provided in the evaluation and CE credit (accredited by ACPE) of 15.0 hours will be sent to CPE Monitor.
Select from the bundles below.
Program

Target audience

Dates (if applicable)

Bundle 1

(# of registrations)

Bundle 2

(# of registrations)

Bundle 3

(# of registrations)

Bundle 4

(# of registrations)

Teaching & Learning Certificate (TLC) Program

Designed for all educators and trainees interested in academia (e.g. graduate students, residents, postdocs, faculty, and preceptors)

Self-paced; 15-hour commitment

3

5

8

10

Total cost of bundle ($USD)

$1,045

$1,655

$2,475

$2,875
Your savings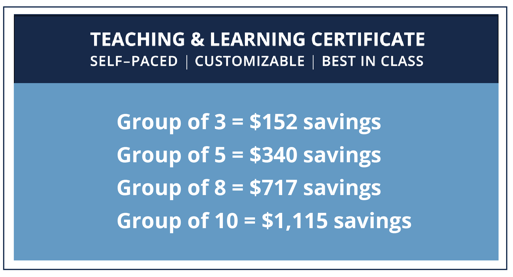 Cancellation policy: Groups who register for the program and cancel within two-weeks of registration and prior to registering residents for the program will receive a full refund less a cancellation fee of $100. No refund will be provided to groups who cancel after the two-week period or after registering residents for the program. Cancellations MUST be in writing and be submitted to

cipher@unc.edu

.
Pharmacists can earn CE credit

The University Of North Carolina Eshelman School of Pharmacy is accredited by the Accreditation Council for Pharmacy Education as a provider of continuing pharmacy education. ACPE program 0046-9999-21-202-H04-P provides 15.0 contact hours of continuing pharmacy education credit. To receive CE credit, participants must complete the CE attendance form and the online evaluation of the program (instructions to be emailed). Statements of credit can be viewed and printed in CPE Monitor in approximately 2 to 3 weeks. **No partial credit will be available**
Questions? Contact cipher@unc.edu.
By registering you are automatically agreeing to:
1. Grant the University of North Carolina at Chapel Hill (the "University") the irrevocable right and permission to use photographs and/or video recordings of me on University and other websites and in publications, promotional fliers, educational materials, derivative works, or for any other similar purpose without compensation to me.
2. Agreeing that such photographs and/or video recordings of me may be placed on the Internet. Understanding and agreeing that I may be identified by name and/or title in printed, internet or broadcast information that might accompany the photographs and/or video recordings of me. Waiving the right to approve the final product. Agreeing that all such portraits, pictures, photographs, video and audio recordings, and any reproductions thereof, and all plates, negatives, recording tape and digital files are and shall remain the property of the University.
3. Releasing, acquitting and forever discharging the State of North Carolina, the University, its current and former trustees, agents, officers and employees of the above-named entities from any and all claims, demands, rights, promises, damages and liabilities arising out of or in connection with the use or distribution of said photographs and/or video recordings, including but not limited to any claims for invasion of privacy, appropriation of likeness or defamation.
If you wish to decline this permission please contact – cipher@unc.edu.
Date: Jan 24, 2023 12:00 AM - Sep 1, 2024 12:00 PM
Registration closes on Dec 31, 2023 11:55 PM
Please choose a Fee Type from the Drop Down Menu Below:
I am a