Adam Persky, PhD, Clinical Professor and CIPhER Faculty Fellow, TLC Program Director
Jacqui McLaughlin, PhD, Associate Professor and Director of CIPhER
Learning Outcomes -
(1) Theory to Practice: Make thoughtful and reasonable selections among educational methods and technologies based on available evidence, theory and educational context;
(2) Curriculum Development: Analyze educational needs and develop an appropriate educational intervention to address them;
(3) Educational Community: Foster the development of an educational community within a given environment;
(4) Assessment and Evaluation: Describe and apply the principles of assessment of individual learners and how they are evaluated from a learning perspective and/or a research outcome perspective;
(5) Life-Long Learner: Apply principles of self-directed learning and reflection to drive one's own long-term educational goals.
Program logistics - The program is asynchronous and can commence at a time best suited for the learner. It is expected learners will complete the program within 18-months from their start date. Successful completion of the program will require approximately a 15-hour commitment. Assignments and program modules are managed through the learning management platform, Sakai. Within two weeks of registration, participants will be added to Sakai and will receive an email from Sakai inviting them to join the program - participants will need to click the provided link to access the program. After successful completion of the program, including the program evaluation, a certificate of completion (electronic certificate) will be sent to the email provided in the registration profile.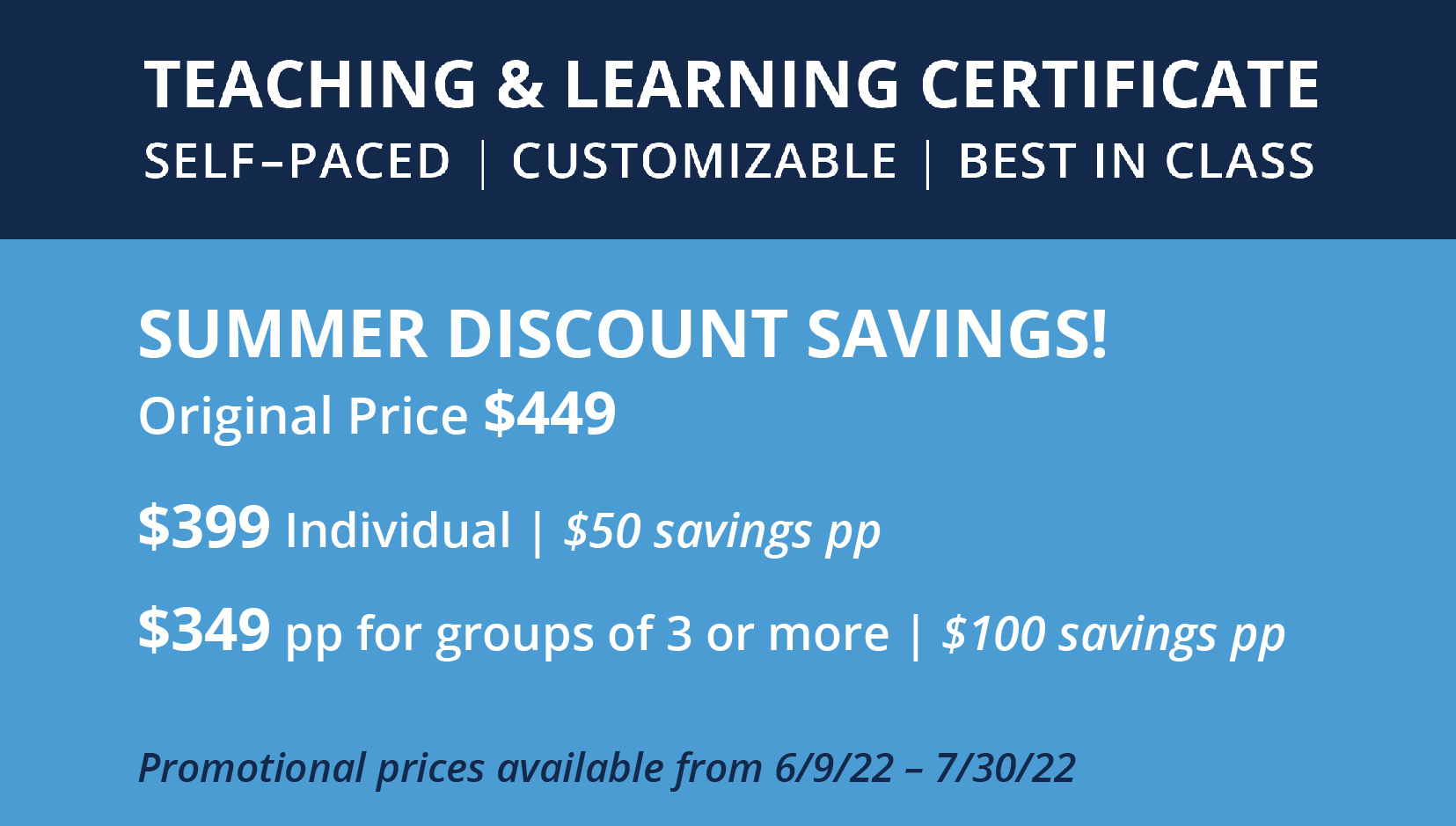 Individual discount: Please register at the bottom of this page. Discount will be in cart.
Group discount: If you have a group of 3 or more, please send a request to CIPhER at cipher@unc.edu for a coupon. Please include the name and email address for each registrant. Your group's point of contact will then receive a coupon code to disseminate to each registrant and registration information.
Registration closes on July 30, 2022 at 11:59 p.m.
Cancellation policy: Individuals who register for the program and cancel within two-weeks of registration and prior to beginning the program in Sakai will receive a full refund less a cancellation fee of $50. No refund will be provided to individuals who cancel after the two-week period or after staring the program. Cancellations MUST be in writing and be submitted to
cipher@unc.edu
, Attn: Susan Charamut.

The University Of North Carolina Eshelman School Of Pharmacy is accredited by the Accreditation Council for Pharmacy Education as a provider of continuing pharmacy education. ACPE program 0046-9999-21-202-H04-P provides 15.0 contact hour of continuing pharmacy education credit. To receive CE credit, participants must complete all modules and the program evaluation (instructions to be emailed after completion of all modules). Statements of credit can be viewed and printed in CPE Monitor in approximately 2 to 3 weeks. **No partial credit will be available**
Questions? Contact cipher@unc.edu or 919-962-5382.
Activity Type
Activity Number
0046-9999-21-202-H04-P
Release Date:
Aug 10, 2021
Credit Expiration Date:
Aug 10, 2024