12:00-1:00 p.m., Wednesday, March 11, 2020, Beard 200 & Karpen 103
How does your institution conceptualize educational impact? How is it different from teaching excellence and scholarly teaching? In what ways can it be documented and evidenced? This program will share how the University of British Columbia (UBC) and the Faculty of Pharmaceutical Sciences has been wrestling with how to think about, identify, document, and establish impact of teaching and learning activities for all faculty that teach. Pharmacy educators will be introduced to UBC's Educational Leadership Mapping (ELM) tool and the Teaching and Learning Impact Framework (TLIF) for establishing educational impact and the types of evidence that can support impact claims. Participants will leave this program with a deeper understanding—and more nuanced view—of educational impact and how the ELM tool and TLIF might be applied in their own contexts and institutions. This work has important implications for student success and our professional growth and career advancement as teachers and scholars.
Objectives:
Define educational leadership in your context
Identify your teaching and learning activities using the Educational Leadership Mapping tool
Describe sources of evidence of impact of educational activities
Outline next steps for mapping, documenting and establishing impact of your educational activities
Target Audience: This program is designed for all teaching faculty, preceptors and trainees.
REGISTRATION DEADLINE: Friday, March 6, at 3 p.m.
---

The University Of North Carolina Eshelman School Of Pharmacy is accredited by the Accreditation Council for Pharmacy Education as a provider of continuing pharmacy education. ACPE program 0046-9999-20-153--L01-P provides 1.0 contact hour of continuing pharmacy education credit. To receive CE credit, participants must sign-in upon arrival (in class or online), attend the entire program and complete the evaluation within 60 days of the program date (included in LECE which will open after the workshop). Statements of credit can be viewed and printed in CPE Monitor in approximately 2 to 3 weeks. **No partial credit will be available**
Presenter Information
Simon Albon, SCs, MSc, PhD, Professor of Teaching & Director of the Office of Educational Support and Development, University of British Columbia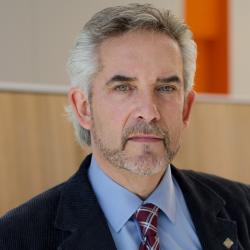 Simon Albon is a Professor of Teaching in the UBC, Faculty of Pharmaceutical Sciences. His academic background includes baccalaureate and master of science degrees in chemistry and a PhD in curriculum studies. He teaches medicinal chemistry in the Faculty's entry-to-practice Doctor of Pharmacy program and leads the Faculty's Pharmacy Education Research and Leadership (PERL) research stream. His research interests are focused on the scholarship of teaching and learning (SoTL). Currently, Dr. Albon is exploring the "teaching-scholarly teaching-SoTL-SoTL leadership" continuum with pharmacy educators to attempt to build educational scholarship and SoTL as a legitimate scholarly discipline in pharmaceutical sciences at UBC and beyond. Dr. Albon is an award-winning teacher and has published and presented his work extensively in local, national and international contexts.
Event FAQ
Lunch will be provided at 11:50 AM in Beard 200 (and Karpen 103). When you register, please indicate if you will attend the lunch session and include any dietary restrictions.
A Zoom link will be provided prior to the program via a confirmation email for registrants who indicate they will attend the program remotely. Use your name to login to Zoom since CE will NOT be awarded if we cannot tie your Zoom attendance to your registration. If you attend remotely via Zoom with a group, please email susan.charamut@unc.edu with the names of the attendees.
Parking passes are available only for guests and visitors employed at locations outside of the UNC campus. Please bring your parking deck ticket to the event to receive a pass.
By registering you are automatically agreeing to:
1. Grant the University of North Carolina at Chapel Hill (the "University") the irrevocable right and permission to use photographs and/or video recordings of me on University and other websites and in publications, promotional fliers, educational materials, derivative works, or for any other similar purpose without compensation to me.
2. Agreeing that such photographs and/or video recordings of me may be placed on the Internet. Understanding and agreeing that I may be identified by name and/or title in printed, internet or broadcast information that might accompany the photographs and/or video recordings of me. Waiving the right to approve the final product. Agreeing that all such portraits, pictures, photographs, video and audio recordings, and any reproductions thereof, and all plates, negatives, recording tape and digital files are and shall remain the property of the University.
3. Releasing, acquitting and forever discharging the State of North Carolina, the University, its current and former trustees, agents, officers and employees of the above-named entities from any and all claims, demands, rights, promises, damages and liabilities arising out of or in connection with the use or distribution of said photographs and/or video recordings, including but not limited to any claims for invasion of privacy, appropriation of likeness or defamation.
If you wish to decline this permission please contact – cipher@unc.edu.
Date: Mar 11, 2020 12:00 PM - 01:00 PM
Registration closes on Mar 06, 2020 03:00 PM
Activity Type
Registration closes on Mar 06, 2020 at 03:00 PM
Activity Number
0046-9999-20-153-L04-P
Date: 03/11/20
Time: 12:00 PM - 01:00 PM
Registration Closed